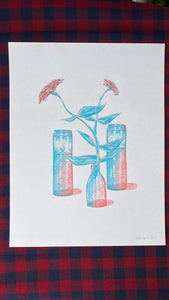 Valerie is an illustrator, printmaker, and graphic designer based in Bloomery, West Virginia. She works alongside type designer Brian Dove at Big Fog, a design studio they run together.
Her personal work is inspired by the mountain-rich landscapes around her home and the imperfect curves of flower stems. Her designs start digitally and are brought to life as inkjet prints, risographs, and screen prints.
More of her work can be found at www.bigfog.co.
Email: valerie@bigfog.co