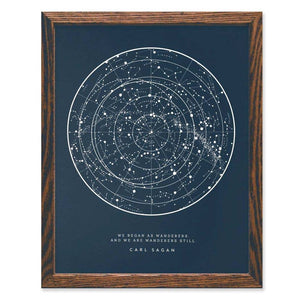 The Wild Wander creates art prints, paper goods, and gifts featuring the original artwork of Richmond, Virginia based illustrator Clara Cline. Following in the footsteps of early American naturalists, it's inspired by dusty libraries, cluttered studies full of artifacts, and an abiding curiosity for forgotten history and the natural world. 
Hand-crafted! WWCo. designs are original illustrations, lovingly made by hand in Richmond, Virginia.
"We began as wanderers, and we are wanderers still. - Carl Sagan" A map of the stars of the Northern Hemisphere with a quote from Carl Sagan. Available in an 11x14 ready to frame size.