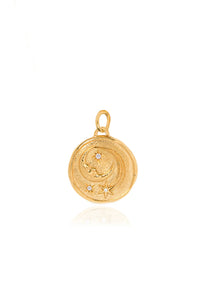 Hermina Athens is a selection of timeless pieces influenced by a rich heritage rooted in Greek mythology and art.
The elements of asymmetry, roughness and appreciation of tradition give birth to unique jewelry leading the mind to a journey adorned with the sights and sounds of Greek life.
With a deep love and respect for the beauty of the imperfect, to which we all owe our uniqueness, we create small heirloom-quality treasures to be passed on from mothers to daughters.
You can easily slide this charm on all our delicate chains!
The only moon charm you will ever need!
A charm to connect with the divine feminine and powerful energy of the moon.
The moon rules our emotional world and intuition, highlighting the female and receptive part of the psyche.
– Elegant and feminine
– Perfect with fine chains and pearl necklaces
– Combine with other Hermina charms
– Your go-to present for a special occasion
– All-weather piece
– Available with clear, turquoise, or multi zirconia gemstones. 
SIZE & FIT INFORMATION
Charm diameter: 2.5 cm (0.98 inches)
Materials: Sterling Silver 925, Zirconia Gemstones
Gold Plating: 1-2 microns