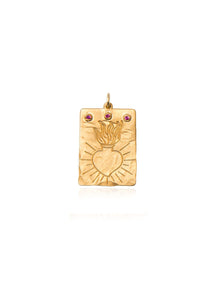 Hermina Athens is a selection of timeless pieces influenced by a rich heritage rooted in Greek mythology and art.
The elements of asymmetry, roughness and appreciation of tradition give birth to unique jewelry leading the mind to a journey adorned with the sights and sounds of Greek life.
With a deep love and respect for the beauty of the imperfect, to which we all owe our uniqueness, we create small heirloom-quality treasures to be passed on from mothers to daughters.
A flaming heart inspired by the Vows (Tama) found in the churches of the Greek Tinos island. The hammered effect and chunky size make this pendant a unique piece to own or gift to a person close to your heart. 
Add this charm to any of our delicate chains!

SIZE & FIT INFORMATION
Charm dimensions: length: 2.7cm (1.06 inches) / width: 1.8 cm (0.70 inches)
Materials: Sterling Silver 925, Zirconia Gemstones
Gold Plating: 1-2 microns