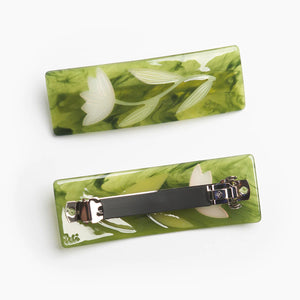 Using original illustrations and a focus on quality production,
Winona Irene creates products to share moments of comfort, gratitude, and humanity. This is truly wearable art!
A stroll through Echo Park in springtime. Paddle boats drift across the lake, while onlookers enjoy snow cones on the grassy banks. An impressive Lotus bed sits ready to bloom for the yearly Lotus Festival.
-approximately 4"
-sold as a single french barrette
-made from cellulose acetate
-Silver French Barrette backing
*Please note that due to the nature of the material, each hair accessory will have differences in color and pattern. Each hair accessory is made from individually cut pieces of cellulose acetate. Each one is unique!
Cellulose acetate is a non-petroleum base coming from wood pulp making it renewable, sustainable & bio-degradable resource.

Photos by Winona Irene